Links:
What's Aurora about?
Originally formed in 2016, Aurora is a consortium of research intensive universities deeply committed to the social impact of their activities.
In November 2020, Aurora received a significant boost from the European Commission (EC), which chose the project under the Erasmus+ programme as one of 41 alliances of the European Universities Initiative that will take place until 2024. This initiative aims to equip students with a meaningful international experience through embedded mobilities while revolutionising the quality and competitiveness of European higher education.
What is the European Universities Inititative?
The EC's European Universities Initiative seeks to strengthen strategic partnerships across the EU between higher education institutions and encouraging the emergence by 2024 of some twenty 'European Universities', consisting in bottom-up networks of universities across the EU which will enable students to obtain a degree by combining studies in several EU countries and contribute to the international competitiveness of European universities.
Co-developed by higher education institutions, student organisations, Member States and the Commission, the European Universities Initiative responds to this call. Today, it is one of the flagship initiatives of the EU's ambitions to build a European Education Area.
Aurora Members
The Aurora Alliance comprises the Universitat Rovira i Virgili and eight other partner universities from the Netherlands (Vrije Universiteit Amsterdam); Iceland (Háskóli Íslands); Germany (Universität Duisburg-Essen); Austria (Universität Innsbruck); Italy (Università degli Studi Di Napoli Federico II); Czech Republic (Univerzita Palackého v Olomouci); Denmark (Handelshøjskolen i København), and the United Kingdom (University of East Anglia).
Get to know your Aurora study abroad destination.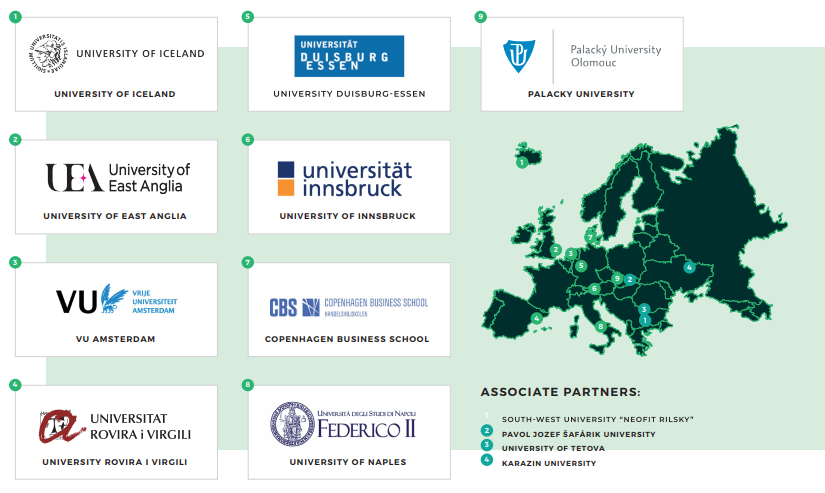 Besides the above mentioned universities, the University Of Aberdeen (United Kingdom) and the University Grenoble Alps (France) are also part of Aurora; however, these partners did not take part in the 2nd Call for Proposals in the European Universities Initiative and therefore are not directly involved in the programme of activities but can still indirectly benefit from it and participate in specific activities.

In this sense, Aurora is an inclusive network and also cooperates with other universities, our Associate Partners, through the Aurora Alliance Capacity Development Support Programme (CDS) which aims at reducing disparities between the research-leading and research-emerging countries in Europe by assisting universities in Central-Eastern Europe and Neighboring Countries to develop their institutional capacity for academic excellence and societal relevance. Our Associate Partners are Pavol Jozef Šafárik University (Slovakia), V. N. Karazin Kharkiv National University (Ukraine), South-West University "Neofit Rilski" (Bulgaria) and University of Tetova (North Macedonia).
---
Governance structure
The Free University of Amsterdam is in charge of the general coordination of Aurora.
AURORA BOARD
U Iceland rector Jón Atli Benediktsson, Aurora President
VU Amsterdam President Mirjam van Praag, member
UEA Vice-Chancellor David Richardson, member
U Iceland Student Council International Officer Alma Ágústsdóttir, student representative
URV rector Maria Jose Figueras, member
UDE rector Ulrich Radtke, member
AURORA CENTRAL OFFICE
Anne-May Janssen, Aurora secretary-general
Sabine Sainte-Rose, Aurora European University program director
Maria José Montaña Correa, Aurora office manager
Anna Klas, Aurora communication officer
Pim de Boer, Aurora EU liaison officer